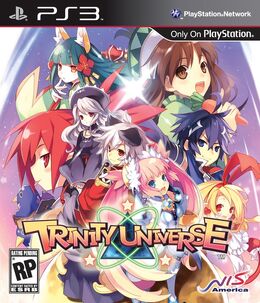 Welcome to the Trinity Universe Wiki
The Trinity Universe Wiki is a wiki for the PS3 game, Trinity Universe, a crossover game with characters from Gust's Atelier series and NIS's Disgaea series, created by Idea Factory. The game was released in the US on June 29th, 2010. The wiki format allows anyone to create or edit any article--the amount of item and dungeon information in this game is immense, and this seemed like the best way to allow multiple people to tackle the game and help create a comprehensive database for reference by players.
How to Contribute
New to wikis? Visit the Contribution Guide to learn a bit about the templates on this wiki and how to use them.
Subsections
Affiliate Wikis